25th January 2013
I've been making my students write personal stories/narratives/essays and so I feel like I should be making myself write a few new ones, also.
First, an opening story from my winter break:
School let out on December 14 and I was incredibly excited for the first paid vacation time of my life. I was also anxious to get back to Colorado and see my family because I hadn't been back to see them since our very short Holmlund reunion back at the end of May. It had been a whirlwind of a year since then – I graduated the week before that trip, interviewed for and took the job teaching in Linden while I was at the reunion, worked summer school, got offered the job at Burton Tech a week after summer school ended, and started that job a few days later. I hadn't had a chance to stop and catch my breath.
And the fresh air was glorious, carrying from afar the fragrance of pine needles and falling snow, calling me to my home: Colorado. I was born in upstate New York – and I've lived in British Columbia, Michigan, and California – but Colorado is and always will be my home.
Colorado is where my heart learned to work hard on the way to 14,000 feet. Colorado is where my heart learned the freedom and joy at being able to fly down singletrack, whether on wheels or feet. Colorado is where my heart learned to pause and admire great beauty in the world around me – parking on the side of the road to admire the pinks and purples streaked in the clouds at sunset, sitting and listening to the serene lullaby of a mountain stream, or catching a glimpse of a moose strutting across a highland marsh – and to take that moment to thank the one who created it all. It is where I learned how to play guitar, where I learned about the value of a hard day's work, and where I first learned how to be a true friend. Wherever I end up living, I believe I will always be from Colorado.
But before I could make my visit home, I had a Los Angeles adventure planned. Two days after break started, Luke (my roommate), his dad, and I did a bike ride that we had been talking about doing for a few weeks. Riding from Azusa to Long Beach is half of the ride that I want to work up to this spring (Long Beach-Azusa-Long Beach). Done as a loop, the full trip could clock up to 100 miles, and this trip was supposed to be 40-45.
We decided to leave in the early afternoon because Luke's dad had a church commitment (and I was happy to go, too). I loaded my bike into my car and drove up to Pasadena, where I picked up Luke. We proceeded to the trail head up near the very end of the San Gabriel River Trail, parked, got our bikes ready, and then waited for "Pops" – Luke's name for his father. After a few minutes he pulled into the lot. We were leaving our cars at the top and being picked up by Luke's mom at our building down on the other end. It was right around 2 pm, and with the ride time estimated around three hours, I figured we would just make it in before it got dark.
I started the ride on my own as the other guys made a few mechanical adjustments. Even though I'm in pretty good shape these days, my arms don't match up to a strong pair of legs, and I knew that Luke and Pops would catch me before too long. But I did want to see how long I could hold them off, and with the downhill slope of the first part of our ride, I wanted to make it at least five miles on my own without getting lapped up.
It was an unusual Los Angeles day, as far as weather was concerned. There were low hanging grey clouds and shifting but constant winds. During the first ten miles I felt an occasional droplet on my face, but for the most part conditions were acceptable. I faired admirably and held my pursuers off for close to ten miles. Once the three of us were back in a pack, I mostly just tried to hang on to the tail end, attempting to get as much benefit as possible from drafting my upright riding companions.
Fifteen or so miles into the ride we were planning on cutting from the San Gabriel River Trail to the Los Angeles River Trail via the Rio Hondo Bike Trail, but after riding for ten minutes up what we thought was the correct trail, we second guessed ourselves and turned back, deciding to stay on the San Gabriel all the way down to East Long Beach. At this point the water droplets turned to a steady rain that persisted until we were dripping and continued until we got off our bikes.
Taking the wrong path cost us some time, but we were still doing ok because we all had working bike lights and were still on track to make it into Long Beach before it was too late. Then things went downhill. And it started with us actually having to go downhill. Into the aqueduct that is the San Gabriel River. While it was pouring rain.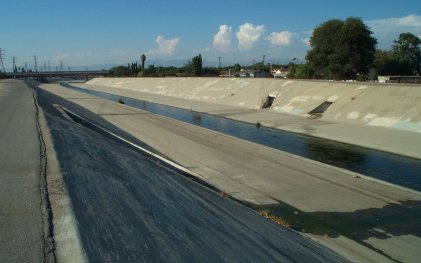 The bike path was under construction and so we were sent down a service vehicle ramp into the bed of the aqueduct. It wasn't too bad at first because most of the water was flowing through the central channel – but every half mile or so there were storm water drains emptying into the river, flowing across our path. Luke and Pops were riding about 30 yards ahead of me when all of a sudden they went down, one after the other, sliding onto the wet concrete. I hit my brakes, slowing down, but then I hit the slick spot and started sliding towards main water channel. At the last minute, I remembered a key from driving on snow/ice and I released my brakes. I was just barely able to avoid plunging into the deeper water.
The spot where this had taken place was at one of the storm water drains, and while none of the others had caused problems, there was some type of algae that covered the concrete where this one was flowing. Combined with the rain water, it had become slick as black ice – and in the low light of dusk it had been just as invisible.
Luke and Pops recovered and we continued on, only to discover a few minutes down that the river had engulfed the raised portion we had been riding on. Instead of turning around, Luke and his dad got off their bikes and dragged me up this steep concrete sidewall of the aqueduct. This was probably the most tense moment of the day for me, because if one of them had slipped or let go, I would have recklessly careened back down to the concrete and the water beyond. When we emerged at the top, we found the path was still under construction – so we rode on dirt and rocks for a few miles.
The dirt and rocks really weren't so bad, except that we were all riding road bikes with thin tires and thin tubes, which made the hissing I soon heard coming from Pops' tire unsurprising. Some rock or piece of glass had apparently made its mark. After our two unexpected detours, it was already starting to get dark as we stopped for Luke and his dad to change the tube out. Just when we thought it had been a successful transplant, the stem ripped out from the tube, rendering it worthless.
We sat dejected and confused as to what to do for a few minutes, but then realized that there was a Wal-Mart across the street from the bike path. Luke hopped the fence, ran over, and came back with a few tubes. The flat fixing process happened again. By this point, it was fully dark and the rain and wind had become more bitter. I borrowed a windbreaker from Pops to keep warm, and when he had one more tire flat out a few miles later, I decided that I needed to continue on my own because I was simply too cold. I spun the 8 or 9 miles back to my place on my own, parked my bike, and then waited for only a few minutes before my fellow adventurers arrived.
We made it. It took an hour and a half longer than anticipated, and the cold rain had taken a toll on all of us, but it also provided Luke and I with a good excuse to enjoy some delicious In-N-Out. Our bike ride did not happen as planned. It was better.I taught Luke a motto I had held from my younger years (possibly attributed to my cousin Ben Johnson – I don't remember anymore): It's not an adventure unless somebody bleeds. This was a great adventure, and a perfect way to kick off winter break.
"part 2 (a cold drive)" to come soon…
Leave a Reply
To reply to this post, please enter your name and write your comment in the textbox below. Some HTML tags are allowed, but others will be stripped if you enter them in your comments.