29th January 2013
Heard an article on NPR yesterday about the marines at Camp Pendleton protecting the endangered Pacific pocket mouse population that lives on the base, and while I'm not normally one to go gaga over cute animals, I had to look it up. Here's an earlier article about the marines and the PPMs, and here is a picture of an adult PPM: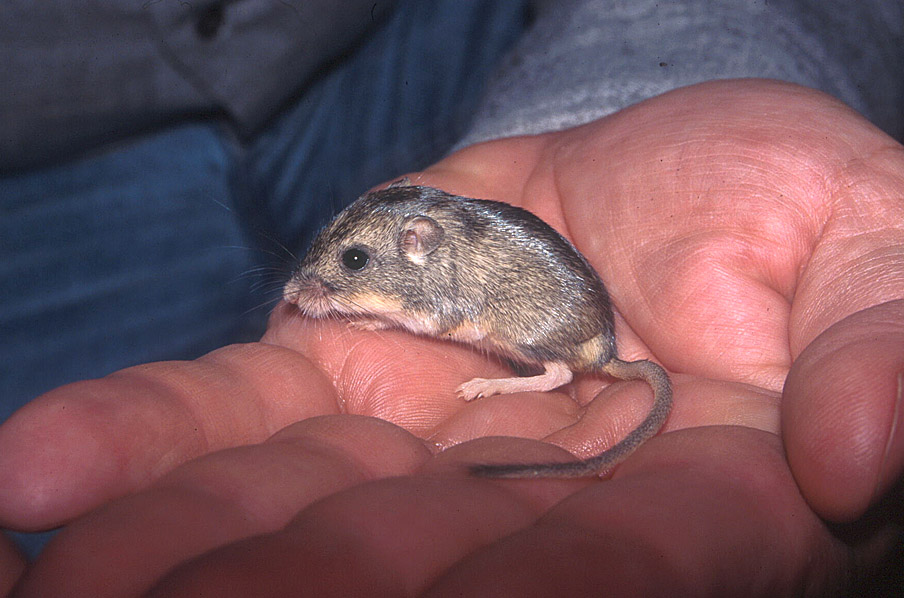 27th January 2013
First, my roommate Luke had a 90s themed birthday party last night so I decided I would do something fun before trimming my chin beard down today. I was trying to look like James Hetfield from Metallica. I think I did ok.
Second, I went to the Festival of Human Abilities at the Aquarium of the Pacific for a few hours today. Saw Team Hotwheelz show off their wheelchair dance skills, met some really cool people, and made connections that will hopefully lead to me getting scuba certified for free with the aquarium divers – and maybe to bringing a field trip from school to the Aquarium sometime!
Check out Team Hotwheelz if you want to know more about them.
25th January 2013
I've been making my students write personal stories/narratives/essays and so I feel like I should be making myself write a few new ones, also.
First, an opening story from my winter break:
School let out on December 14 and I was incredibly excited for the first paid vacation time of my life. I was also anxious to get back to Colorado and see my family because I hadn't been back to see them since our very short Holmlund reunion back at the end of May. It had been a whirlwind of a year since then – I graduated the week before that trip, interviewed for and took the job teaching in Linden while I was at the reunion, worked summer school, got offered the job at Burton Tech a week after summer school ended, and started that job a few days later. I hadn't had a chance to stop and catch my breath.
And the fresh air was glorious, carrying from afar the fragrance of pine needles and falling snow, calling me to my home: Colorado. I was born in upstate New York – and I've lived in British Columbia, Michigan, and California – but Colorado is and always will be my home.
Colorado is where my heart learned to work hard on the way to 14,000 feet. Colorado is where my heart learned the freedom and joy at being able to fly down singletrack, whether on wheels or feet. Colorado is where my heart learned to pause and admire great beauty in the world around me – parking on the side of the road to admire the pinks and purples streaked in the clouds at sunset, sitting and listening to the serene lullaby of a mountain stream, or catching a glimpse of a moose strutting across a highland marsh – and to take that moment to thank the one who created it all. It is where I learned how to play guitar, where I learned about the value of a hard day's work, and where I first learned how to be a true friend. Wherever I end up living, I believe I will always be from Colorado.
But before I could make my visit home, I had a Los Angeles adventure planned. Two days after break started, Luke (my roommate), his dad, and I did a bike ride that we had been talking about doing for a few weeks. Riding from Azusa to Long Beach is half of the ride that I want to work up to this spring (Long Beach-Azusa-Long Beach). Done as a loop, the full trip could clock up to 100 miles, and this trip was supposed to be 40-45.
We decided to leave in the early afternoon because Luke's dad had a church commitment (and I was happy to go, too). I loaded my bike into my car and drove up to Pasadena, where I picked up Luke. We proceeded to the trail head up near the very end of the San Gabriel River Trail, parked, got our bikes ready, and then waited for "Pops" – Luke's name for his father. After a few minutes he pulled into the lot. We were leaving our cars at the top and being picked up by Luke's mom at our building down on the other end. It was right around 2 pm, and with the ride time estimated around three hours, I figured we would just make it in before it got dark.
I started the ride on my own as the other guys made a few mechanical adjustments. Even though I'm in pretty good shape these days, my arms don't match up to a strong pair of legs, and I knew that Luke and Pops would catch me before too long. But I did want to see how long I could hold them off, and with the downhill slope of the first part of our ride, I wanted to make it at least five miles on my own without getting lapped up.
It was an unusual Los Angeles day, as far as weather was concerned. There were low hanging grey clouds and shifting but constant winds. During the first ten miles I felt an occasional droplet on my face, but for the most part conditions were acceptable. I faired admirably and held my pursuers off for close to ten miles. Once the three of us were back in a pack, I mostly just tried to hang on to the tail end, attempting to get as much benefit as possible from drafting my upright riding companions.
Fifteen or so miles into the ride we were planning on cutting from the San Gabriel River Trail to the Los Angeles River Trail via the Rio Hondo Bike Trail, but after riding for ten minutes up what we thought was the correct trail, we second guessed ourselves and turned back, deciding to stay on the San Gabriel all the way down to East Long Beach. At this point the water droplets turned to a steady rain that persisted until we were dripping and continued until we got off our bikes.
Taking the wrong path cost us some time, but we were still doing ok because we all had working bike lights and were still on track to make it into Long Beach before it was too late. Then things went downhill. And it started with us actually having to go downhill. Into the aqueduct that is the San Gabriel River. While it was pouring rain.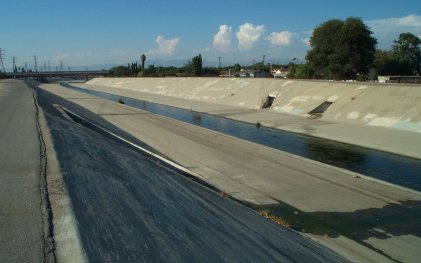 The bike path was under construction and so we were sent down a service vehicle ramp into the bed of the aqueduct. It wasn't too bad at first because most of the water was flowing through the central channel – but every half mile or so there were storm water drains emptying into the river, flowing across our path. Luke and Pops were riding about 30 yards ahead of me when all of a sudden they went down, one after the other, sliding onto the wet concrete. I hit my brakes, slowing down, but then I hit the slick spot and started sliding towards main water channel. At the last minute, I remembered a key from driving on snow/ice and I released my brakes. I was just barely able to avoid plunging into the deeper water.
The spot where this had taken place was at one of the storm water drains, and while none of the others had caused problems, there was some type of algae that covered the concrete where this one was flowing. Combined with the rain water, it had become slick as black ice – and in the low light of dusk it had been just as invisible.
Luke and Pops recovered and we continued on, only to discover a few minutes down that the river had engulfed the raised portion we had been riding on. Instead of turning around, Luke and his dad got off their bikes and dragged me up this steep concrete sidewall of the aqueduct. This was probably the most tense moment of the day for me, because if one of them had slipped or let go, I would have recklessly careened back down to the concrete and the water beyond. When we emerged at the top, we found the path was still under construction – so we rode on dirt and rocks for a few miles.
The dirt and rocks really weren't so bad, except that we were all riding road bikes with thin tires and thin tubes, which made the hissing I soon heard coming from Pops' tire unsurprising. Some rock or piece of glass had apparently made its mark. After our two unexpected detours, it was already starting to get dark as we stopped for Luke and his dad to change the tube out. Just when we thought it had been a successful transplant, the stem ripped out from the tube, rendering it worthless.
We sat dejected and confused as to what to do for a few minutes, but then realized that there was a Wal-Mart across the street from the bike path. Luke hopped the fence, ran over, and came back with a few tubes. The flat fixing process happened again. By this point, it was fully dark and the rain and wind had become more bitter. I borrowed a windbreaker from Pops to keep warm, and when he had one more tire flat out a few miles later, I decided that I needed to continue on my own because I was simply too cold. I spun the 8 or 9 miles back to my place on my own, parked my bike, and then waited for only a few minutes before my fellow adventurers arrived.
We made it. It took an hour and a half longer than anticipated, and the cold rain had taken a toll on all of us, but it also provided Luke and I with a good excuse to enjoy some delicious In-N-Out. Our bike ride did not happen as planned. It was better.I taught Luke a motto I had held from my younger years (possibly attributed to my cousin Ben Johnson – I don't remember anymore): It's not an adventure unless somebody bleeds. This was a great adventure, and a perfect way to kick off winter break.
"part 2 (a cold drive)" to come soon…
5th January 2013
"Morrie's approach was exactly the opposite. Turn on the faucet. Wash yourself with the emotion. It won't hurt you. It will only help. If you let the fear inside, if you pull it on like a familiar shirt, then you can say to yourself, 'All right, it's just fear, I don't have to let it control me. I see it for what it is.'

"Same for loneliness: you let go, let the tears flow, feel it completely – but eventually be able to say, 'All right, that was my moment with loneliness. I'm not afraid of feeling lonely, but now I'm going to put that loneliness aside and know that there are other emotions in the world, and I'm going to experience them as well."
—Morrie Schwartz and Mitch Albom, Tuesdays with Morrie
I make my students keep logs where they talk about what they've been reading in my class, but I have not held myself to the same standard. I've thought about it several times this year, as I've read a bunch of really good (and not so good) books from my classroom library. I'm not particularly motivated to write in a journal that no one else will read, but I am interested in sharing what I've read with other people.
This past week I've been reading Tuesdays with Morrie (can you tell from my past two entries?), the record of a series of conversations that a writer had with his old professor as the professor prepared to die. There have been many things from this book that have resonated with me. The quotation from my last post, for one. And the quotation above for another.
People ask me if I ever feel sad or get depressed or frustrated about having a physical disability. And my answer is usually something similar to what Morrie Schwartz describes above, though with more specifics:
First, it's really interesting to note that half a year before I was in that November 2004 car accident, I had a major depression event. During the winter/spring of 2004 I had a stress fracture in my shin that kept me from running, I was struggling with eating disorder issues that stemmed from my on again off again relationship with competitive running, and I was removed from an internship with Calvin College's chapel because my supervisor and I were not communicating with each other in effective ways. I decided to see a counselor through the school's counseling services. The conversations I had there were good, and based on personal and family history, the doc recommended I try an antidepressant. So I started taking Lexapro. And I felt a lot better. I said to myself, "Lots of kids experiment with drugs in college. Maybe this will be my way of joining in with them (under the watchful eye of health professionals)." I was reinstated to the internship and finished the semester in a good place.
I kept taking Lexapro all through the summer as I went to Durango and worked on an archaeological field project, then went back to Loveland and worked 75-80 hours a week at two jobs, and then finally went back to school in Michigan and decided to take a relatively easy semester: 14 credits, including 1 credit of "Jogging" and 1 credit of "Rock Climbing". And I was happy enough to be running, helping coach other JV cross country runners, and having adventures but not worrying about wanting to be thin and be the fastest runner in the world.
Then I flew out a car window and spent four months in the hospital, where doctors weren't super concerned about whether I had been taking an antidepressant for the past eight months. At one point I had twelve or fifteen medications on my list – painkillers, blood thinners, anti-spasticity medications, antibiotics – and adding a non-essential was not a priority. And I had too much to actually worry about to be depressed. I also had a stream of visitors or activities to keep me busy, and lingering head trauma that left me with a shortened attention span for a few months. I didn't really think about how unfortunate the situation was except for every once in a while. And then, I wouldn't have time to think for long.
When I got out of the hospital and realized how different my life was and would be, there were many moments of sadness for me, but I decided that I would feel these moments. I decided to take the time to reflect on these moments when they came: the smell of fall and its association with cross country season; the frustration of having my legs hate the cold when I used to love going out and cross country skiing around the neighborhood or golf course; the times when taking care of myself takes longer than I want it to and I end up late or unable to do something; every time I go to the beach and slowly work my way across the sand…
I feel the sadness and let myself have down time – sometimes an hour or a few hours, sometimes a day – but I tell myself that it's just for a short time and that I would get back up, get out, and get back to life after. I've kept doing that. I don't want to brag or say that antidepressants are not a necessary and positive step for some people – because they did help me during 2004 – but I haven't used antidepressants since the accident.
However, now I need to listen to Morrie Schwartz say this same thing about loneliness. I'm 27 years old and I'll be 28 in April. It is easy for me to think about not having a girlfriend/wife at this stage in my life and be frustrated and feel alone. But the more effort I put into looking for someone to take that place, the more alone and frustrated I feel. I think it's because I forget all the other friendships I have, and the love and support I get from my family. Going back to what I said at the end of December, it means that I'm comparing my life to other possible lives instead of focusing on loving the people around me well.
I'm afraid of the loneliness, but instead of running away from it and trying to find someone or something that will fill that in, it's time for me to stop, let myself feel how being alone really is, and then realize that I'm not alone. I'm surrounded by wonderful people – and I'm going to keep adding to that cloud of friends.
3rd January 2013
"The culture that we have does not make people feel good about themselves. We're teaching the wrong things. And we have to be strong enough to say if the culture doesn't work, don't buy it. Create your own."
-Morrie Schwartz, from Tuesdays With Morrie by Mitch Albom
Something that I needed to hear at the start of a new year. Change is not impossible, but it is often difficult and painful. Am I scared of change?