4th May 2013
My friend Luke, who was living with me in Long Beach, recently moved out because I live far away from the main stopping points in his life at the moment (and he has limited cash flow as he just finished the USC MAT program and is now looking for a job).
Luke and I did a lot of riding together because he's been training to do a charity ride for the American Lung Association - a ride from Washington State to Washington, D.C. I'm both excited for Luke and a little jealous of the ride he gets to do!
Anyway, I've contributed to his fundraising, and if you have a few extra pennies, maybe you can, too. Here's the link: http://action.lung.org/site/TR/Bike/ALAMP_Mountain_Pacific?px=4619973&pg=personal&fr_id=6630
One cool thing to note - and maybe I shouldn't note this, but I will anyway - is that Luke's girlfriend's mom works for Tom Hanks, so if you go to the link and look at the list of people who have donated, you'll see yours truly, and then wait til it scrolls down and you'll see that Tom Hanks and Rita Wilson also put a few dollars in the hat. I've heard nothing but the best about Mr. Hanks - truly a gentleman and a scholar, and a supporter or Luke and the ALA.
1st May 2013
Today my students were supposed to turn in their descriptive essays and field journal pages detailing what pieces of nature they observed here in Los Angeles. My students had a low turn in rate all day. Most still needed to print their essays out, so I helped many of them do that.
By the time 6th period arrived, I was tired and frustrated. I didn't want to deal with noisy, whiny students, but the students came in noisy and whiny. Several students kept harping about the room being too hot and how I needed to turn on the AC, but I never change the thermostat because students are always complaining - it's too hot or it's too cold, sometimes both at the same time!
After hearing one loud student complain for too long, I sent him to the hall where I discussed overcoming difficult situations and personal responsibility with him. Was the heat really making him loud or did he have a choice concerning his own behavior? Was he in control or was the heat? And how was he supposed to react to challenges? By complaining about it? Or be getting the job done anyway?
He didn't like the line of reasoning I presented but agreed to come in and attempt to work quietly, so we both returned to the classroom.
The thermostat in my room is on the wall by the door. I felt fine wearing a short sleeve dress shirt, but I was curious so I checked it on my way in. Some rapscallion had turned it up to 99 degrees and the temperature was already at 78. I quickly turned it down, trying not to let any of my students know that they had, in fact, won the battle over the AC for the day.
26th April 2013
The following is a sample essay I wrote for my students, who I am having write descriptive essays about what elements of nature they find in their environs in South LA:
Two years ago I moved from Northern Colorado to Los Angeles and people that I talk to about this always note what they perceive to be vast differences between the two places. To those in Los Angeles, Colorado is the land of mountains and wilderness, where it snows all year around (which is almost true). Angelenos think Coloradoans are all mountaineers who are in touch with Mother Nature and go into the forest to cut wood for the fires that heat their rustic cabins. And Coloradoans picture LA as concrete and steel, skyscrapers and highways. The "river" in LA is an aqueduct known more for car chase scenes in movies than for fishing. (Of course, Coloradoans know all too many real life Californians, because they keep moving to the Front Range!).
While Los Angeles does have a lot of concrete, I found that it also has a surprising amount of greenery – as long as you're looking for it. I decided to survey the neighborhood where I live in Long Beach to see what natural elements survive and thrive there. I started out on my 4th floor balcony to get the bird's eye view of the neighborhood. Palm trees are planted on either side of the street in the grass strip between the sidewalk and the road. On the opposite side of Atlantic Avenue, the palm trees are tall, straight, and their fronds are healthy green. On my side of the road, the palm trees were planted more recently but have not been thriving. The fronds look like dried straw sticking out of a headless scarecrow.
Looking straight down from the balcony, there's a small garden area right in front of my building's lobby. In that little patch are several varieties of flowers. One plant had thin, vein-like stems terminating in six bright purple flower petals, folding out into perfect asterisks. Next to those flowers was another plant highlighted by purple: a variety of lavender with slightly fuzzy stems and at the end of each stem a clustered flurry of tiny purple flower heads, each fluttering slightly with the breeze. A final plant that caught my eye had many branches sticking out in every direction like a head full of dreadlocks. It looked a bit like yucca, except that each branch was covered with soft needles that jutted out at all angles.
I strolled a few blocks south and west of my building, walking through an urban orchard, each road lined by trees that had been planted into small boxes left open in the cement of the sidewalk. Cherry trees with pink blossoms showed that it was the start of April and the sakura season. Most of the trees were palms but a few were other, leafier varieties with branches extending to the adjacent building, turning the sidewalk into a tunnel. Some of the trees were surrounded by metal grates, and the metal grates had tufts of grass and infant trees sneaking out of the drainage openings. Grass and other weeds even found ways to force their way into the air through cracks in the concrete.
While the grass growing through the concrete had to be tough and scrappy, setting shallow roots and absorbing moisture whenever it was available, other plants in the neighborhood are luckier. Several restaurants in the Long Beach East Village area mark out their territory by placing flowers planted in large vases or pots on the sidewalk. These botanical specimens get rich topsoil and daily water – and the brightly colored flowers are rewarded with the appreciation of people passing by.
We notice these flowers in part because they are presented to us as typical flowers, which sometimes come in pots. The other natural elements of the city we recognize less often because they are not in situ where we expect to see them. Trees are forest dwellers; when we plant them in the city, they become part of the invisible background, only noticeable when on a mission to discover the green things in a grey world. We notice grass when it is part of a meadow or a park or an athletic field – that's where grass should be – but never stop to consider the mighty strength of Mother Nature that exists in a single blade of grass pushing through a slab of concrete. Coloradoans are guilty of this, too: believing that nature is only real when you are in pure, unadulterated wilderness, which is found abundantly in Colorado but not in big cities like LA. But nature is in the city if we're willing to look for it, and one day – perhaps ten or twenty thousand years from now – it will likely be easy to find nature in Los Angeles – and hard to find traces of us.
Here's some song lyrics I typed out a long time ago from last summer's "Open Road EP" but I never ended up publishing…
Gravel and sand mixed up in my hand
Falls to the ground falls down to the land
Now look up at me and help me understand
Tell me the right way
Tell me the right way
Tell me the right way
Tell me the right way
Tell me the right way
I tried to tell you in the morning
But I could tell that you weren't listening
I'll try again in the evening
If you're still awake when I come home
We had a break down of communication
We were trying to have a conversation
I could tell things weren't going so well
But I still hoped it might work out
Sleeping to dream and dreaming of sleep
One day you'll wake up and want me to leave
But give me a chance and tell me what you need
Tell me the right way
Tell me the right way
Tell me the right way
Tell me the right way
Tell me the right way
I tried to tell you in the morning
But I could tell that you weren't listening
I'll try again in the evening
If you're still awake when I come home
We had a break down of communication
We were trying to have a conversation
I could tell things weren't going so well
But I still hoped it might work out
I shared all of my dreams with you
And now all of them revolve around you
I can't picture my life without you
And I don't think I want to
When we said it was forever
I believed it to be true
There's still time to keep your promises
And I'll try to keep mine to
There's still time to keep your promises
And I'll try to keep mine to
There's still time to keep your promises
And I'll try to keep mine to
Tell me the right way
Tell me the right way
Tell me the right way
Tell me the right way
Tell me the right way
16th April 2013
I swam 3200 meters or yards on Saturday at the big swim-a-thon. My brother Mike put in 5000. I haven't been swimming at all this year so it was a pretty solid effort for me. We swam in a lane that was part of a 33 hour relay put together by the USC occupational therapy grad students that I'm friends with. Cool to be part of something like that - and something huge like Swim With Mike. I heard the total from the swim this year was about $900,000, which should mean the scholarship gets to continue supporting over 50 athletes "overcome personal tragedy and realize their potential".
I also really enjoyed having my brother out to visit again. We ate good food, went to the Manhattan Beach pier, spent time with some of my good friends, and got in the pool together for a good cause. Not a bad weekend.
Now… one week til CST testing; two weeks til CST testing is over.
12th April 2013
A week from today is my birthday - April 19 I will be 28. For my birthday present, why not give a dollar or 2 to sponsor me as a swimmer at the Swim With Mike swim-a-thon tomorrow? !

Swim With Mike supports scholarships for individuals who were competitive athletes and then had life changes that caused permanent disability.

click here to support my swim tomorrow!
http://swimwithmike.org/swimmer/?swimmerID=11180
Oh, and PS, I suppose I haven't written much lately, but I've been a little busy with 1) being really sick for about a month; 2) trying to do my job teaching high school teachers; and 3) going to the Grand Canyon for spring break.
This next weekend is also the Long Beach Grand Prix, and the track is about a half mile from my building. Maybe less as the bird flies. There's already all kinds of craziness going on - drift races and extra traffic. Though I've never been particularly interested in auto racing, I think it would be fun to check the event out since it's in my neighborhood and they usually give free tickets for qualifying.
17th March 2013
Because today, as I'm grading a project my students recently finished, I have found them to plagiarize shamelessy. Come on young people! At least learn how to say something in your own words so it isn't exactly the same!
13th March 2013
A song, cued to just the right moment.
If you're offended that I would play/say this to my students, I'm sorry, but they had never heard the song and think it's funny because they know that I'm too soft and sometimes… well… they need to just do what the song says.
29th January 2013
Heard an article on NPR yesterday about the marines at Camp Pendleton protecting the endangered Pacific pocket mouse population that lives on the base, and while I'm not normally one to go gaga over cute animals, I had to look it up. Here's an earlier article about the marines and the PPMs, and here is a picture of an adult PPM: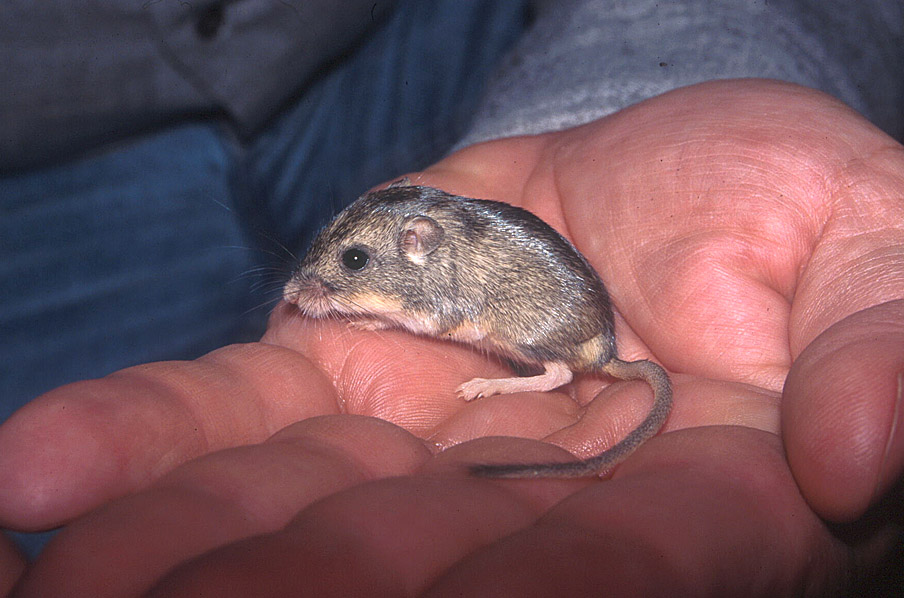 27th January 2013
First, my roommate Luke had a 90s themed birthday party last night so I decided I would do something fun before trimming my chin beard down today. I was trying to look like James Hetfield from Metallica. I think I did ok.
Second, I went to the Festival of Human Abilities at the Aquarium of the Pacific for a few hours today. Saw Team Hotwheelz show off their wheelchair dance skills, met some really cool people, and made connections that will hopefully lead to me getting scuba certified for free with the aquarium divers - and maybe to bringing a field trip from school to the Aquarium sometime!
Check out Team Hotwheelz if you want to know more about them.